Die FoxLog-Group lädt euch recht herzlich ein zum Clever Convoy im August 2022! Das Event findet am Sonntag, den 21. August statt.
Unser Themenkonvoi steht unter einer besonderen Aufgabe. Die Foxlog Air benötigt eure Frachten zum Transport von Denver, Colorado nach Gillette, Wyoming.
Beim letzten Clever Convoy ging es zuvor von Esbjerg Containerport zum Frankfurter Flughafen, damit wir die Frachten von dort aus nach Denver fliegen konnten. Unsere Flugzeuge haben ihr Ziel inzwischen erreicht und die Waren stehen nun zum Weitertransport bereit.
---
Treffen / meet up: 18:00 Uhr in Denver-Air Cargo (UTC 16:00 Uhr)
Start: 19:00 Uhr (UTC 17:00 Uhr)
Pause / break: Rock Springs- USBB & Steeler
Ziel / destination: Gilette- Aussichtspunkt
TMP-Server: ATS Simulation
Event-TS / TeamSpeak: ts.foxlog-group.de
benötigte DLCs / required DLC: Wyoming, Utah, Colorado
Zu beachten / Please notice:
bitte aufgetankt und repariert erscheinen / please make sure to repair and fill up your truck
Singletrailer verwenden / use only single trailers
zufällige Straßenereignisse und Umleitungen ausschalten / turn off random events and diversions in game
---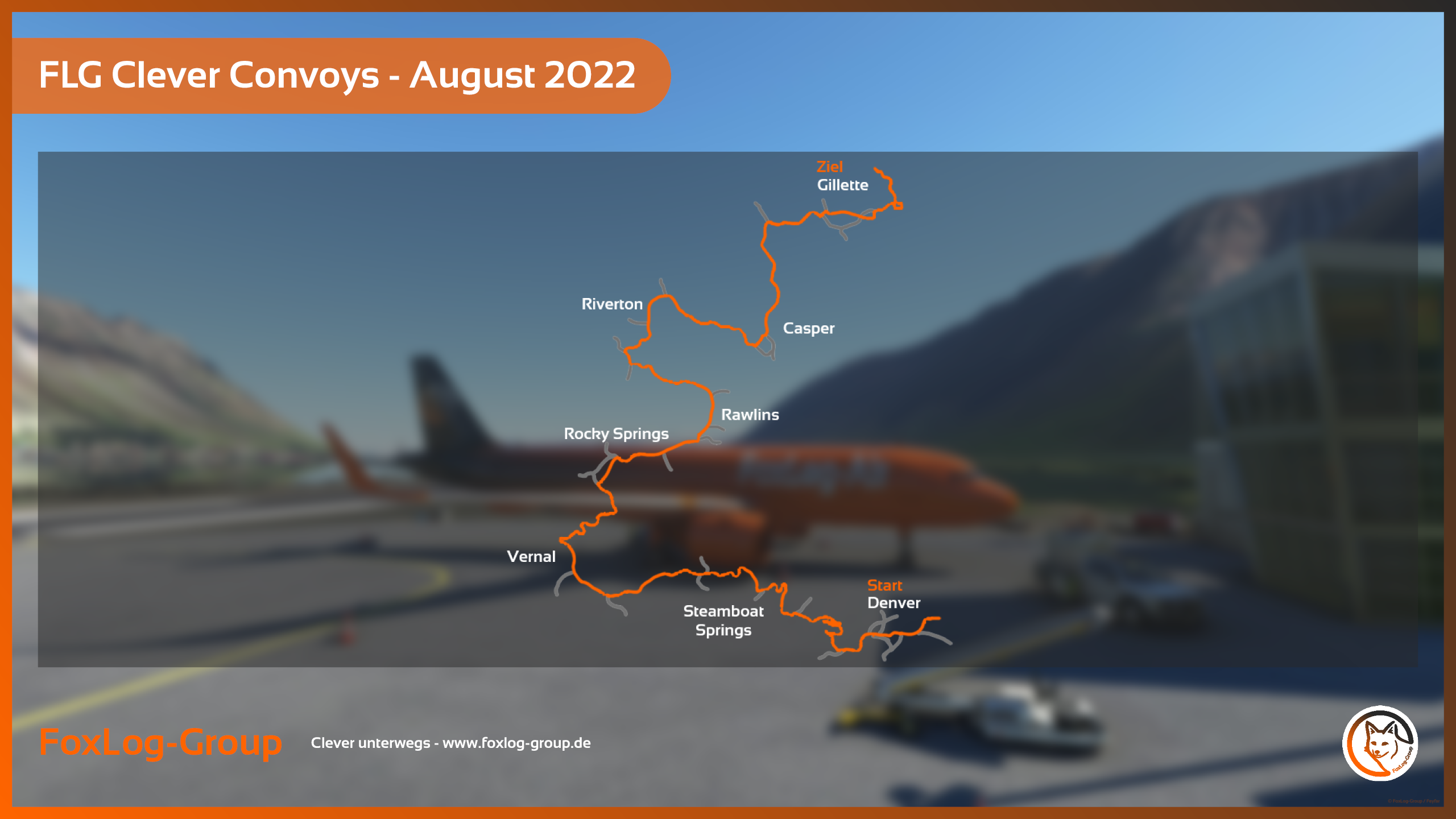 ---
Wenn ihr als Spedition oder Einzelfahrer/in teilnehmen möchtet, meldet euch bitte einfach über diese TMP-Eventseite an.
If you want to participate with your VTC or alone, please register by using this TMP Event page.
--> https://truckersmp.com/events/10430
---
Bei Fragen oder sonstigen Anmerkungen stehen wir euch jederzeit zur Verfügung. Wir sind erreichbar über unser Ticketsystem sowie meistens auch auf unserem TeamSpeak- und Discord-Server.
If you have any questions or other comments, do not hesitate to contact us. We are able to be reached via the ticket system on our website, as well as on our TeamSpeak and Discord server.