Die FoxLog-Group lädt euch recht herzlich ein zum Clever Convoy im September 2022! Das Event findet am Sonntag, den 18. September statt.
Es handelt sich dabei um eine neue Event-Reihe der FLG: ein öffentlicher Konvoi jeden Monat - entspannte Atmosphäre, schöne Strecke, abwechslungsreiches Programm.
FoxLog-Group invites you to Clever Convoy in September 2022! The event will take place on Sunday, September 18th.
This is a series of events by FLG: one public convoy each month - relaxed atmosphere, beautiful route, varied programme.
---
Treffen / meet up: 15:30 Uhr in Burgas - Ctomaheha Posa (UTC 13:30 Uhr)
Start: 16:00 Uhr (UTC 14:00 Uhr)
Pause / break: Krajawa
Ziel / destination: Iasi - Kaarfor
TMP-Server: Simulation 1
Event-TS / TeamSpeak: ts.foxlog-group.de
benötigte DLCs / required DLC: Road to the Black Sea
Zu beachten / Please notice:
bitte aufgetankt und repariert erscheinen / please make sure to repair and fill up your truck
Singletrailer verwenden / use only single trailers
zufällige Straßenereignisse und Umleitungen ausschalten / turn off random events and diversions in game
---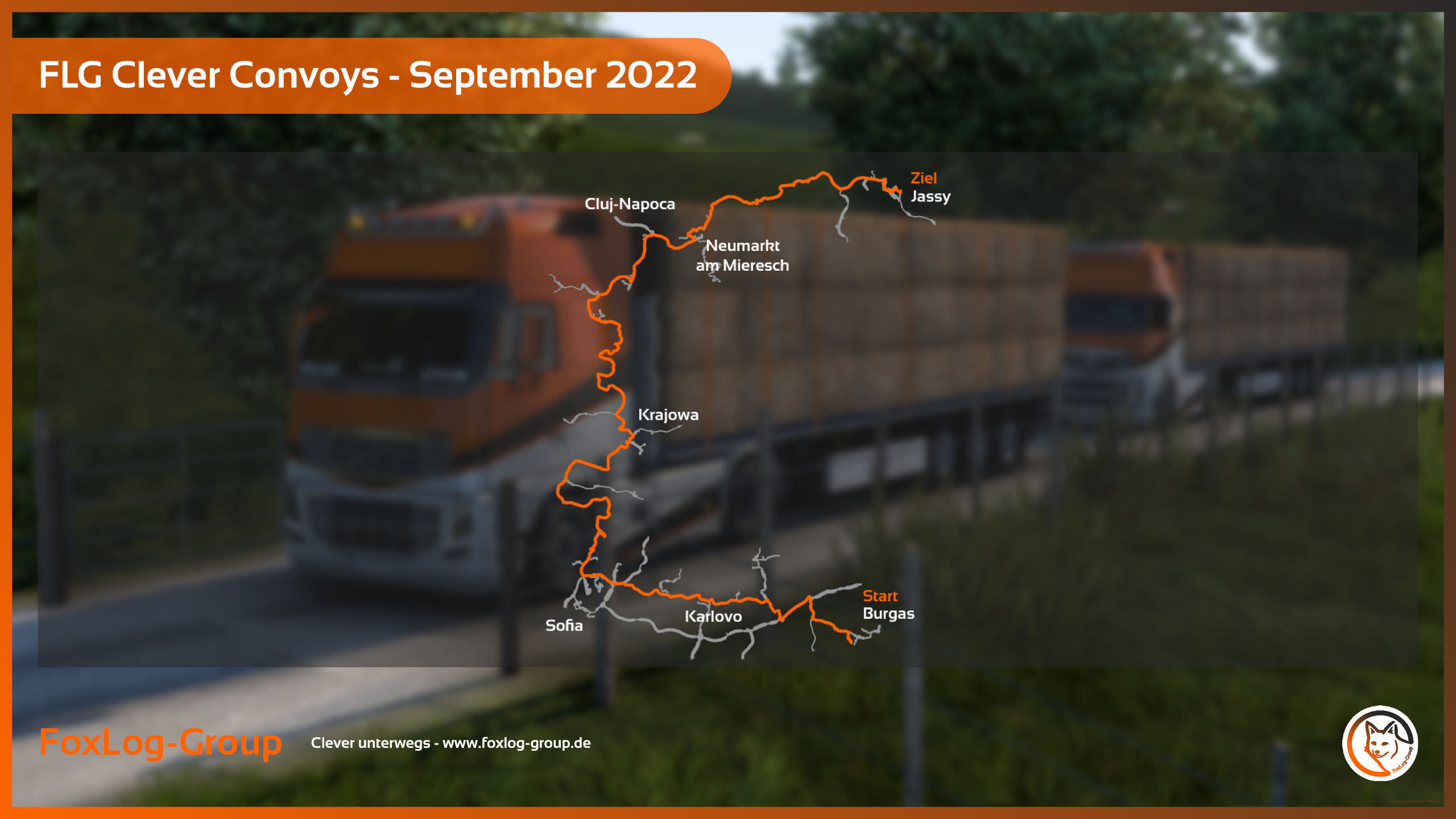 ---
Wenn ihr als Spedition oder Einzelfahrer/in teilnehmen möchtet, meldet euch bitte einfach über diese TMP-Eventseite an.
If you want to participate with your VTC or alone, please register by using this TMP Event page.
--> https://truckersmp.com/events/10972
---
Bei Fragen oder sonstigen Anmerkungen stehen wir euch jederzeit zur Verfügung. Wir sind erreichbar über unser Ticketsystem sowie meistens auch auf unserem TeamSpeak- und Discord-Server.
If you have any questions or other comments, do not hesitate to contact us. We are able to be reached via the ticket system on our website, as well as on our TeamSpeak and Discord server.