Hi guys, this is Wombat. That was the sentence that opened every video of Wombat Trucker. Unfortunately it has been a while since he uploaded anything. This is because he has had a tough year in his personal life. Therefore, we at Global Cargo are organizing this event to give him a boost.
We at Global Cargo have always worked with Wombat and his team to create great Events such as the infamous Hunger Games and of course The Good, the Bad and the Ducky events and some more. Therefore, we are organizing a wonderful convoy that will take us across a large portion of the map.
This convoy therefore consists of five routes and takes us from Igoumenitse in Greece to Kirkenes in Norway. We stop in Venice in Italy, Algeciras in Spain, Reims in France and Uppsala in Sweden and we will finish this great day on the Kirkeness Quarry Road in Norway.
Please join us to honor Wombat on behalf of the entire community and to show that we have not forgotten him.
Everyone from inside & outside the VTC is invited to join us on this december event.
---
Convoy info
Date: 11 - December-2021
Name event: Global Cargo Tribute to Wombat
Gathering: 8:30 GMT
Departure time: 9:00 GMT
Game: Promods
Start city: Igoemenitsa
Company: Sea Port
---
Slot booking
vtc slot booking can be done on our discord
go to our discord request a VTC representative rol in #public-help (see pinned message there)
if you got the role you get a new channel on the discord
then you can request the slot you want.
watch out the whole parking is a collision zone
---
Route
route it will be 1 route but we will have 4 breaks in the route so yes you can say we got 5 routes as well
the breaks will be 15 min when tail has arived you can always join the convoy by looking on https://map.truckersmp.com/ .
the total lenght of the event will be 10.305KM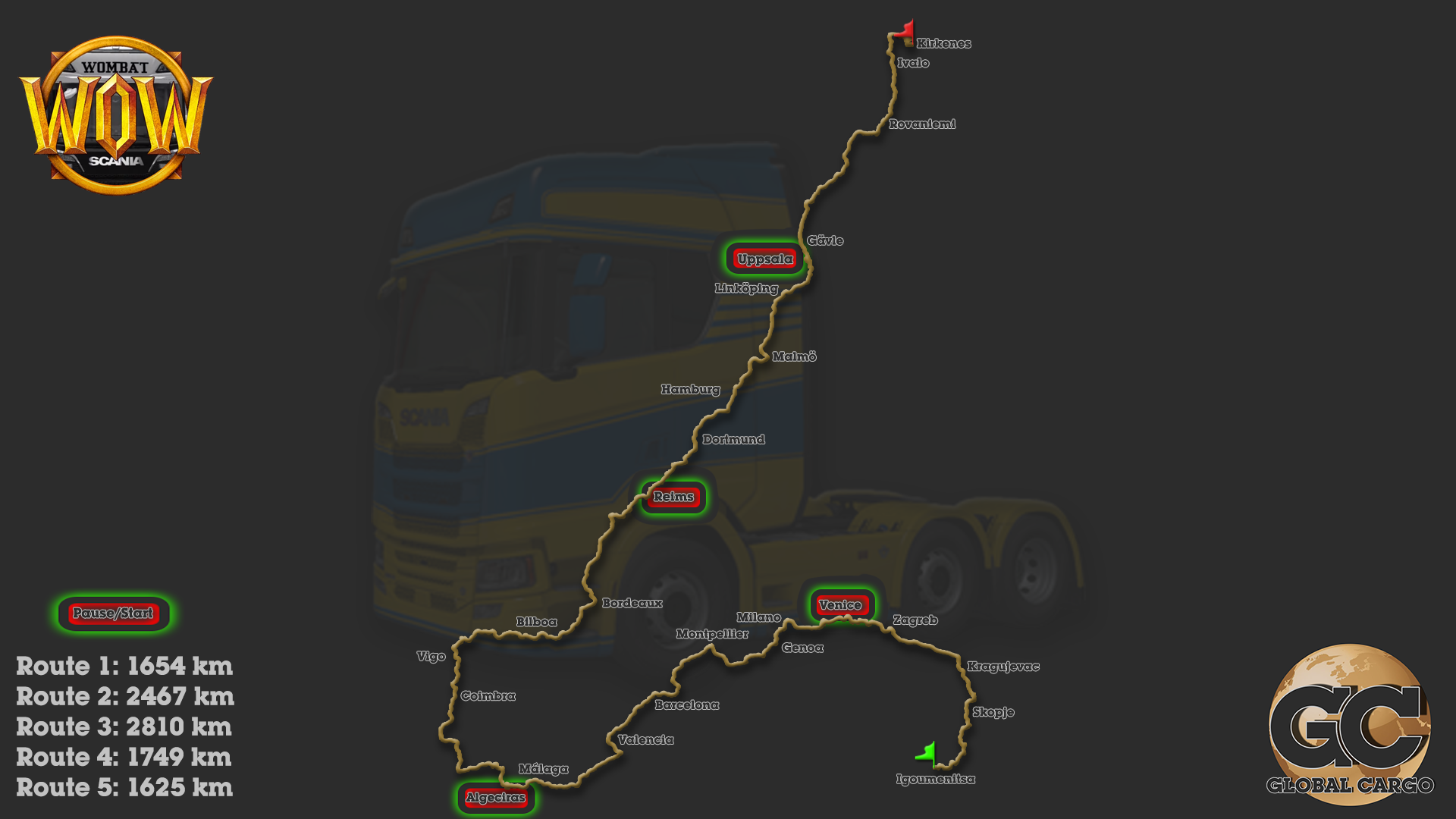 Route 1 Route 2 Route 3 Route 3 Route 4 Route 5
---
Discord: https://discord.gg/GlobalCargo
Website: https://www.globalcargovtc.com/
VTC page: https://truckersmp.com/vtc/72