天下车队关于加速器与黄名调整通告如下
---
中文
关于加速器与黄名调整通告如下: *即日起,车队所提供的加速器月卡不再免费提供,可通过以下两种途径获取! *一:参与联运打卡4次(包含4次)发放次月月卡卡密! *二:可通过外部TB任务所发配的本月总里程数达1万公里!考虑到部分队员没时间参加联运,也可通过外部任务获得! 黄名的获取如下: *满足上面两个条件,且队内表现良好(听从调配调度、不恶意辱骂玩家、等) *加速器月卡可私信队长获取! *黄名可私信牙牙获取!
---
English
The announcement regarding the adjustment of accelerators and yellow names is as follows: *From now on, the accelerator monthly card provided by the team is no longer free and can be obtained through the following two ways! *1: Participate in the intermodal check-in 4 times (including 4 times) and issue the monthly passcode for the next month! *2: The total mileage of this month that can be distributed through external TB tasks reaches 10,000 kilometers! Considering that some team members do not have time to participate in the combined transport, they can also be obtained through external missions! The yellow name is obtained as follows: *Satisfy the above two conditions, and perform well in the team (subject to deployment scheduling, not maliciously insulting players, etc.) *Accelerator monthly card can be obtained by private message to the captain! *Huang name can be obtained by private message to Yaya!
Information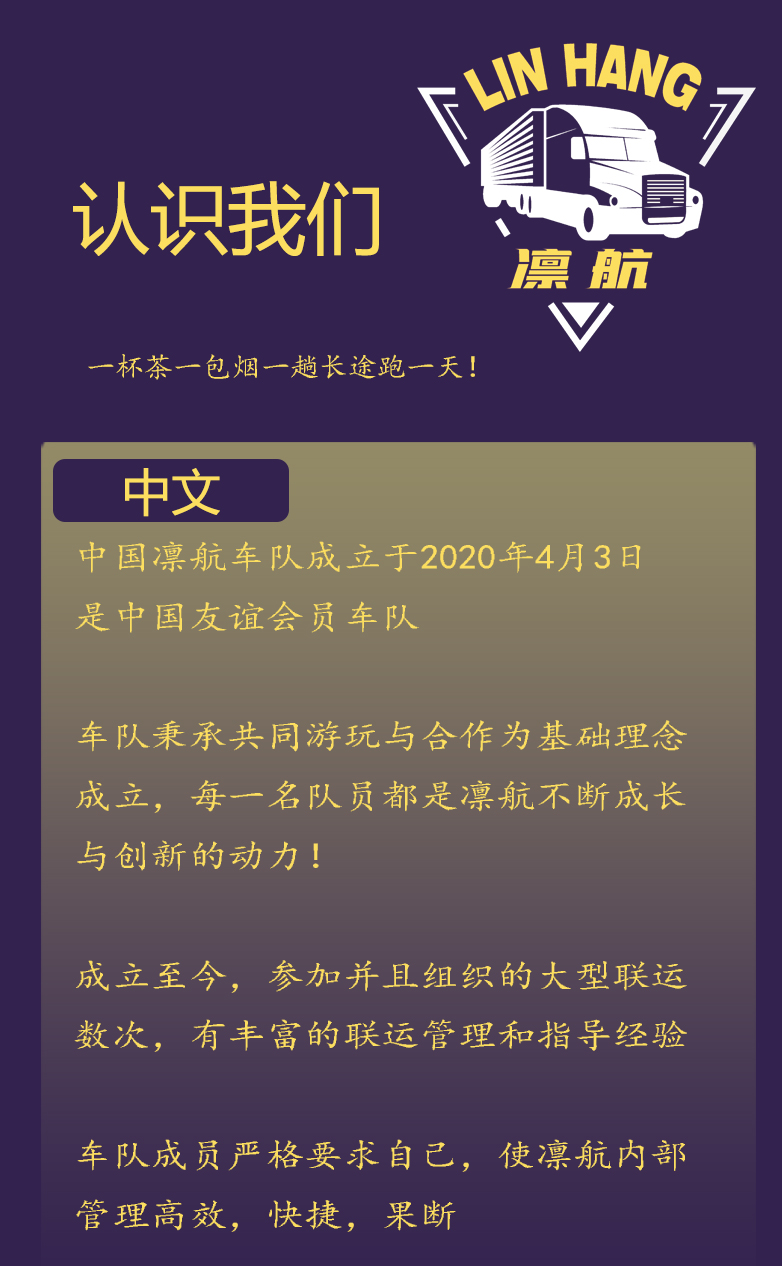 中文
中国凛航车队 成立于2020年4月3日
是中国友谊会员车队
车队YY;418522
接待QQ群: 904338216
车队粉丝群:1093016206
入队要求:本体,全套,良好的素质,YY语音环境良好,年龄18周岁以上,联运必须听从管理指挥!
---

English
China L-HTeam was established on April 3, 2020
It is a Chinese Friendship member team
Fleet YY: 418522
Reception QQ group: 904338216
Faculty fan group:1093016206
Entrance requirements: main body, complete set, good quality, good YY voice environment, over 18 years old, intermodal transportation must obey the management command!
---
Tag: LH-Team-VTC
Language: Chinese (Simplified)
Created: 08 May 2020 11:33 UTC
Supported Games
Members: 204
Recruitment:
Closed