Event Description
DLCs Requirements
---
Event Information
Hallo liebe Trucker und Freunde der Simulation,
hiermit möchten wir Euch zu unseren Convoy´s der der Star Alliance Int. Logistics einladen. Diese sollen bestenfalls auf einem Eventserver stattfinden. Wird der Eventserver nicht genehmigt, findet der Convoy auf dem Pro Mods Server statt.
Bitte meldet Euch hier bei Truckers-MP an & unser Formular, damit wir wissen wie viele von Euch kommen werden und wir die Chance haben einen Eventserver zu bekommen. :-)
Das Formular findet Ihr auf unserer Webseite oder über den Link: https://form.jotform.com/210926540863356 um eure Spedition anzumelden!
Bitte schaut 1-2 Wochen vor Convoy hier nach euren Slots! Bei Fragen bezüglich unseres Events könnt Ihr jederzeit uns eine E-Mail schreiben an [email protected] oder auf unseren Discord, TeamSpeak etc. kommen. Wir freuen uns auf euch! Bis bald!
Mohikaner / Inhaber
---
Datum: 24.09.2022
Treffen: 19:00 Uhr (17:00 Uhr UTC)
Start: Lyon ➔ Steinbruch ➔ 20:00 Uhr (18 Uhr UTC)
Pause: A2 ➔ bei Kilometer 905 (linke Spur und Standstreifen)
Ende: Prag ➔ Steinbruch
Streckenlänge: ca. 1610 Km
Server: Event oder Pro Mods Server
Teamspeak: ts.convoy-security.de
Überholen ➤ Überholt wird nur bei Erlaubnis!
LKW´s ➤ Es werden nur mit LKW´s gefahren sowie sind keine Schwerlast, Double oder HTC Trailer erlaubt. Max. 20 Tonnen!
Beleidigungen ➤ Wer keinen vernünftigen Umgangston beherrscht und andere beleidigt, ob nun direkt oder subtil, muss mit den Konsequenzen leben!
Geräusche ➤ Obszöne und unangenehme Geräusche wie Rülpsen sind zu unterlassen! Stimmenverzerrer ist auch nicht gestattet!
Werbung ➤ Werbesprüche oder Werbeslogans sind zu unterlassen.
Website: https://www.sail-trans.de/
VTC: Website https://truckersmp.com/vtc/46332
Discord: https://discord.gg/XfPTFetkF5
Instagram: https://www.instagram.com/s.a.i.l_trans/
Youtube: https://www.youtube.com/channel/UCr8LGBuI-kdnQPuAQR8MhOQ
Route
Pause: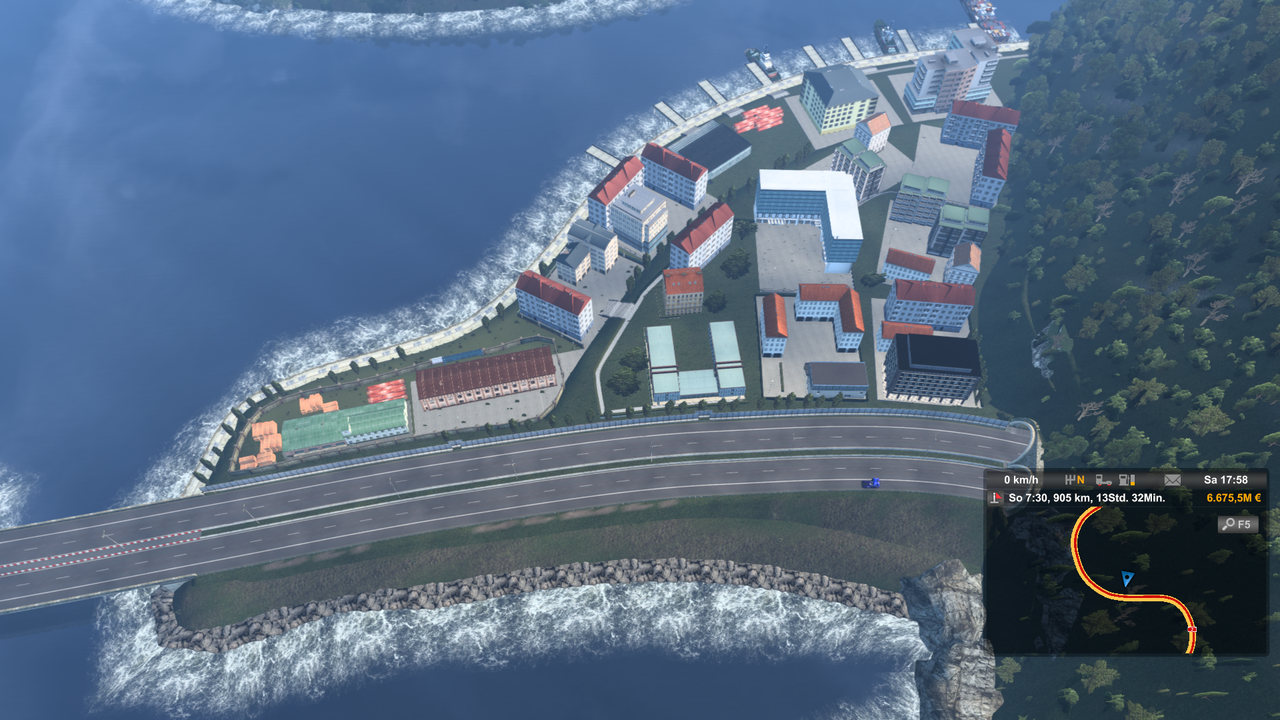 Slots
Slot ist die Teamspeak Reihenfolge auf ConSec TS
---
Temporary rules
Approved by Event Management
Event Rules for Participants: 
Only approved Event Staff are able to use the following words or phrases in their player tag; "ConSec", "Ausbilder", "Einsatzleiter", "Konvoiende", "ConvoySecurityGroup" or similar
Participants must follow Event Staff instructions.
Participants must haul a trailer. (Except Event Staff)
Double trailers, Triple trailers, HCT trailers, and Heavy Cargo configurations are prohibited. (Except Event Staff)
Overtaking is prohibited.
Advertising is prohibited. (Except Event Staff)
Beacons are prohibited. (Except Event Staff)
Free roaming on the server is prohibited.
Participants of the convoy must ignore traffic lights unless it is unsafe to do so.
Cars are prohibited. (Except Event Staff)
Participants are allowed to block the parking lane and the left lane at the start and break for a smooth starting and resume. The lane between them must be kept clear for participants who wish to drive to their VTC, petrol station or to leave the convoy. According to this image: https://i.krz.link/fXqO4.png
All other TruckersMP rules apply.
Event Rules for Event Staff:
The carriageway can only be partially blocked for "Real Operations" meaning that there is always a way round on the main carriageway. On the correct side of the road.
Operations on Country roads are not permitted.
Event Staff can block junctions and roads approaching junctions in order to direct the convoy.
Event Staff overtaking the convoy cannot be performed by more than 2 members at a time.
Event Staff can drive the incorrect way where roads have a central reservation barrier ONLY. In accordance with the rule above.
Event Staff can park out of bounds. Providing this is on the ground and not on top of buildings or other inappropriate places deemed unsuitable by TruckersMP Staff.
All other TruckersMP rules apply.
---